---
YB type (Meibian) preloaded box substation
---
As an important power supply unit in wireline distribution network, YB preassembled substation is widely used in urban and rural distribution network, integrating high-voltage control, protection, power transformation and distribution equipment.
---
---
YB prefabricated substation is a localized American-style box transformer launched by Hefei Liyuan Power Equipment Co., Ltd. As an important power supply unit in the cable distribution network, the product integrates high-voltage control, protection, power transformation, and power distribution equipment and An integrated complete set of pre-installed products, widely used in urban and rural distribution networks.
This product puts the high-voltage load switch and high-voltage fuse in the transformer oil, and has two structural forms with the transformer body in the same box or in two boxes. The oil tank adopts a fully sealed structure and is equipped with oil temperature gauge, pressure gauge, pressure release valve, oil drain valve and other components to monitor the operation status of the transformer. The product is divided into ring network type, terminal type and dual power supply type. In order to make this product more suitable for the actual requirements of my country's power grid, our company has introduced a plug-in type dry fuse, and the fuse of the fuse is not affected. properties of transformer oil. According to the complexity of low-voltage feed-out requirements. YaB-shaped products are divided into three types of shells: standard type, reinforced type and comprehensive type, so that users and design units can be more flexible and economical when selecting models.
This product complies with GB3906, DL/537, ZBK40001, SD320, GB/T1 7467 and other standards.
Model Description
Conditions of Use
1. Ambient air temperature: -10°C-+40°C, the daily average does not exceed 35°C.
2. Altitude: <1000m.
3. Wind speed: equivalent to 34m/s (not greater than 700pa).
4. Temperature: The average daily relative humidity is not greater than 95%; the average monthly relative humidity is not greater than 95%.
5. Shockproof: the horizontal acceleration is not more than 0.4m/s.
6. The inclination of the installation site: not more than 3 degrees.
7. Installation environment: The surrounding air is free from obvious pollution such as corrosive and flammable gases, and there is no violent vibration at the installation site.
8. When ordering this product beyond the above conditions, you can negotiate with the company.
Product Structure Features
1. The structure is compact and the volume is only about 1/3 to 1/5 of the domestic European-style box-type transformer with the same capacity, which greatly reduces the occupied area.
2. Fully sealed and fully insulated structure, no need for insulation distance, reliable protection of personal safety.
3. The high-voltage wiring can be used for both the ring network and the terminal, with flexible power supply and high reliability.
4. Low loss, low noise, low temperature rise.
5. Strong overload capacity, short circuit resistance, and strong impact resistance.
6. It can meet various low-voltage feed-out requirements, and can be selected according to the scheme or designed by itself.
7. There are 200A elbow plugs and 600A "bottom" type fixed cable joints for the cable head, both of which can be equipped with full insulation.
8. Zinc oxide lightning arrester, 200A type cable head can be plugged and unplugged under load, and can also play the role of isolating switch. Main technical parameters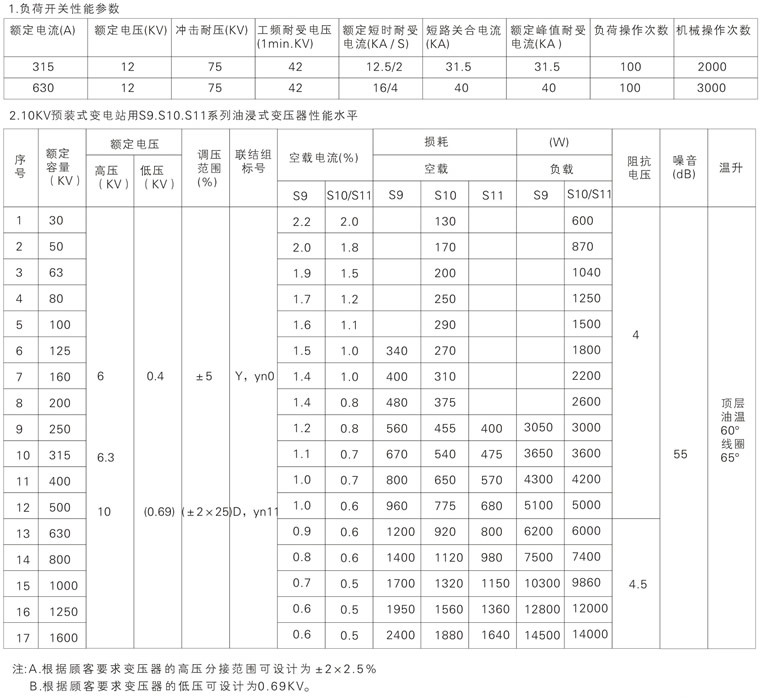 Other parameters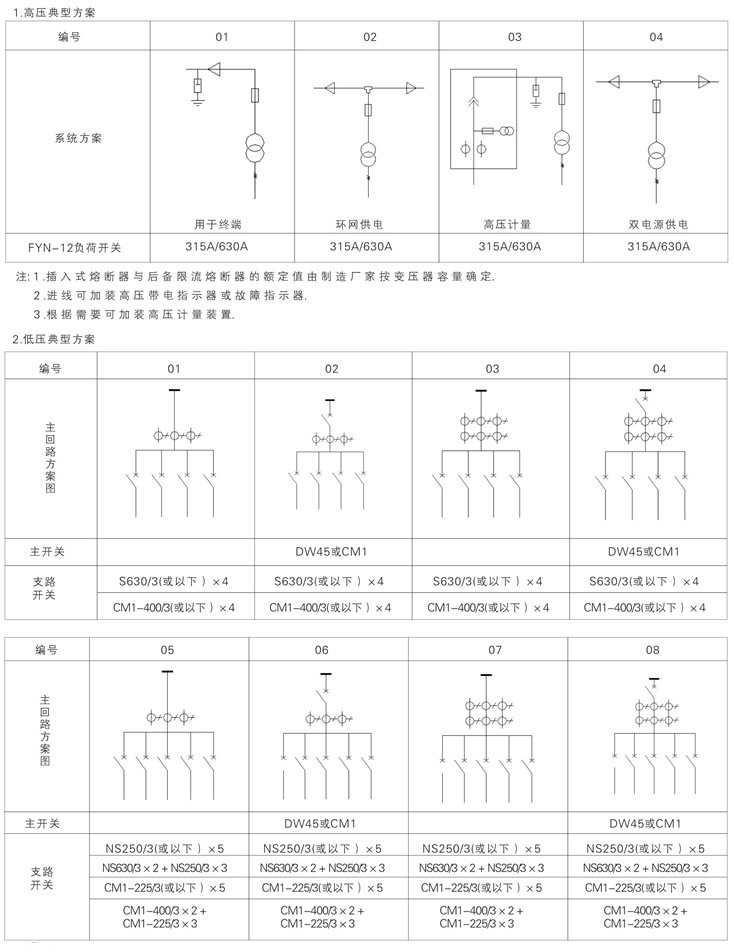 Dimensions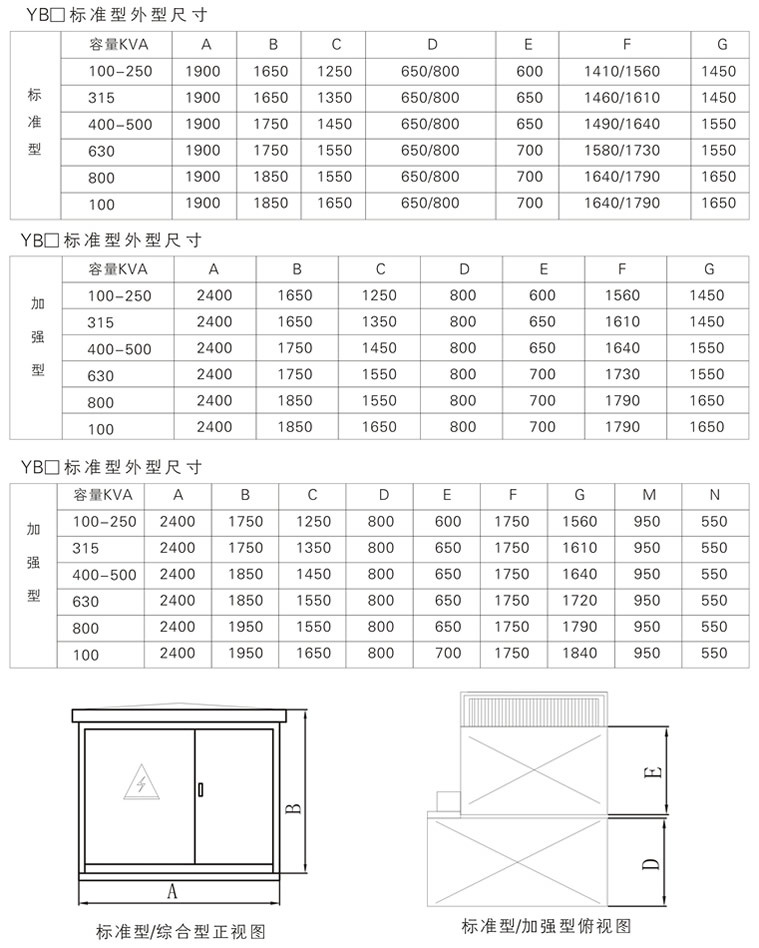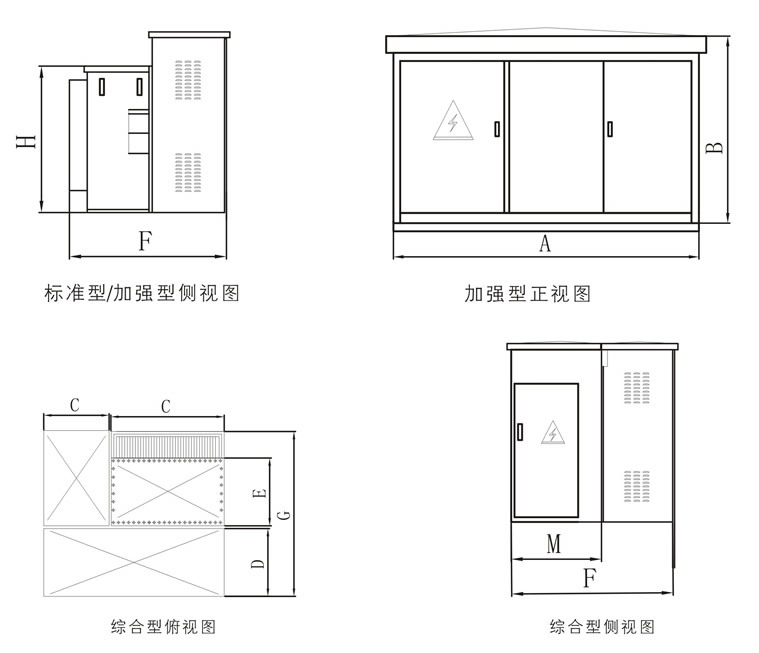 Order Notes
The user should provide the following information to the company when ordering:
1. Model, capacity, quantity, color.
2. Is it a standard product or a non-standard product (any product that does not conform to the high and low voltage electrical scheme diagram provided by the company is regarded as a non-standard product).
3. Transformer performance model, connection group, decomposition range.
4. For the ring network or terminal, use the type of cable head, the cross-section of the incoming cable, whether it has a lightning arrester, whether it has a fault indicator and a computer indicator.
5. Low-voltage scheme number, model and specification of low-voltage circuit breaker. Requirements If it is low-voltage metering, whether it is individually sealed, low-voltage transformer model and accuracy requirements, active meter, reactive meter or comprehensive tester, electronic meter model specification requirements.
Keywords: high voltage | low ark | box complete sets of equipment