PZ30 low voltage enclosed lighting box
---
Category: Comprehensive Distribution
Description: It mainly produces all kinds of high, medium and low voltage switchgear. Since its establishment, it has developed rapidly with the support of the majority of users. At present, it has a number of advanced machinery and equipment production lines and a scientific research and management team composed of middle and senior talents with rich experience and strong technical force. Technological level and product quality, to better serve our customers.
Keywords: high-voltage switchgear, medium-voltage switchgear, low-voltage switchgear, box-type substation, integrated distribution station
---
Overview
PZ30 low-voltage enclosed lighting box is suitable for single-phase and three-phase circuits with a frequency of 50Hz, a rated voltage of 500V and below, and a load current of not more than 100A. It is used for power lighting, motor control, and overload, leakage and short circuit protection of the circuit. , The box has reasonable design, small size, beautiful appearance, safe and reliable use, and can be widely used in factories, buildings, residences, shopping malls and other places.
Standard implementation
GB7251 "Low-voltage complete switchgear and control equipment, Part 3: Special requirements for low-voltage complete switchgear and control equipment-distribution panels for non-professionals to enter the site".
IEC60439——3 "Complete switchgear and control equipment for low voltage, Part 3: Special requirements for low-voltage complete switchgear and control equipment for non-professionals to enter the site-distribution panel".
Product model and meaning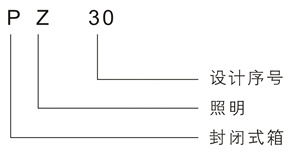 Use conditional environment
1. The altitude should not exceed 2000m.
2. The ambient air temperature should not exceed 40℃ and not lower than -25℃.
3. The monthly average relative humidity of the air at +20℃ is not more than 90.
4. Places without severe vibration and;
5. There is no explosion hazard place, and there is no gas or conductive dust in the medium that is enough to corrode metals and destroy insulation.
Structural Features
PZ30 lighting distribution box shell material is made of 1.0mm thick high-quality steel plate. The shell is treated with high-voltage electrostatic spraying, and is equipped with a plastic transparent cover. .
1. Factory standard of modular structure; 隹 combination system.
2. The design of various cabinets is novel and beautiful, and the standard and series are integrated into one.
3. Three-phase lighting box can be used, single-stage and multi-stage, leakage can be combined arbitrarily.
4. The rated current is less than 1 00A, and the protection level of the shell reaches, P3X.
5. The ultra-thin structure is suitable for the installation of lightweight construction walls and wall hanging installation.
6. Safe and reliable single-phase three-phase comb-shaped busbar connection, more busbar insulation protection cover to make it safer and better thermal stability.
Outline and installation dimensions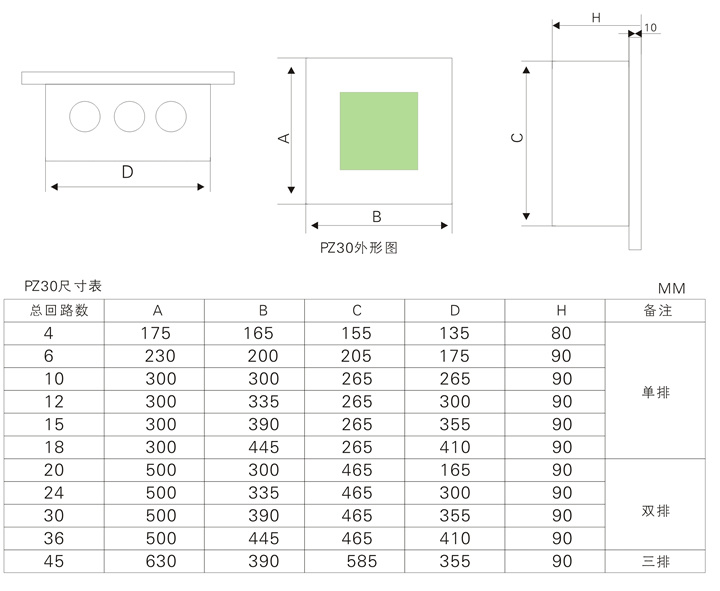 Ordering Instructions
Please specify when ordering:
1. Model;
2. Number of circuits;
3. Installation method (exposed or concealed);
4. Cabinet color.